Real Time Data Analysis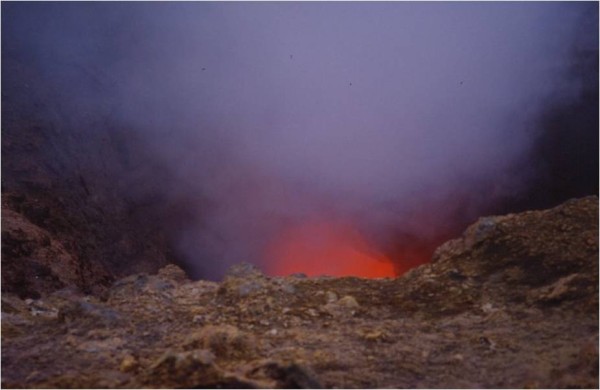 Pacaya Volcano in Guatemala photograph taken by Angela Wranic
You will work in a group of 3-5 students. You need to generate a map that shows earthquakes with a magnitude 2.5 or greater across the world. You can use a National Geographic map to generate the plot and USGS for earthquake data. From this map answer the following questions.
1) What is the relationship between plate location and earthquake generation?
2) What location will you focus on for your wiki construction?
Wiki Building
This activity is construction of a wiki which is a group website. You will be working collaboratively with other students to construct the wiki. You will begin at www.wikispaces.com. Each person will need to sign up for an account there. Next you will go to the wiki www.geographywranic.wikispaces.com where you will navigate to the page "Using Wikispaces". From the links you can become familiar with how to use the software needed to construct the wiki. There are instructions both in English and Spanish. Make sure you understand how to use the software before starting construction of the wiki. This will ensure a better quality wiki.

Have one person log into http://www.wikispaces.com/. Create your wiki (one per group) and make sure all your group members know the link to your wiki. Once you have created your wiki post a link to your wiki on http://geographywranic.wikispaces.com/ along with your group members names, university name, and your chosen topic. Once you have a working idea of how to edit information, make sure your group members have access to the wiki and are able to edit content. You do this Under "Manage Wiki" then "People" and "Invite People." You will need to send each member of your group an e mail invitation and they will need to respond and accept. When this is complete they will be able to edit the wiki although group members cannot edit the group website at the same time as information will be lost. Next go to "Permissions" where you will select the "Protect" option. This allows everyone to view your wiki but only group members to edit the wiki.

For this activity you and 3-5 fellow students will be creating a wiki website. Wikis are collaborative websites that allow multiple people to edit its content. Wikipedia is probably the best example of a wiki. Wikis can contain textual information, videos, surveys, images or anything else that regular websites contain, the main difference is that multiple people have control over its design and contents.

Your wiki will contain information about a location with a history of earthquakes. It is recommended if you live in a region with earthquakes that one group chooses a location in that region. The following content should be included in your wiki.

1. Include any type of physical processes that might be occurring at that location.

2. What are some natural hazards for your location and what human interests may be at risk?

3. You should describe how community residents and authorities can prepare for an earthquake or volcanic eruption and its aftermath in the area of your location. Review earthquake advice from the links below or other sites you may find.

FEMA - Federal Emergency Management Agency USGS Earthquake FAQs
More on Wiki Building
You can use pictures, videos, or other multimedia from the web as long as you follow copyright laws (Los derechos de propiedad intelectual). The links provided in lesson 1 can also provide you with information. The SARS website provides an excellent example of proper references and an example of a website designed by students. Any text information included on your wiki should be written yourself not copied from a website. Creating your own information from data available is encouraged. At least two items should be originally created by your group. Some examples would be a slideshow, PowerPoint, survey conducted and adminstered, an activity, a personal video, a podcast, a blog...and many others. This is your opportunity to be creative!
Here is a website that could give you some ideas about creating your own material.